LOCOMOTION RACING
At A Glance...
> 1975 Dodge Dart Sport
> IHRA Crate Motor Stock (I-J-K)
> NHRA / IHRA ET bracket
> 360/300hp Commando engine
> Best 1/4 Mile ET/mph:
11.227 @ 116.27 mph
> Best 1/8 Mile ET/mph:
7.034 @ 94.55 mph

---
More information on the following companies and other fine products can be found through their logo/links on the "Products & Services I Use and Recommend" page.
Holeshot Wheels


Holeshot Wheels continues to design new styles for their wheels. Check their site for the newest offerings. (Click on wheel.)

Ishihara-Johnson Crank Scrapers


Ishihara-Johnson Crank Scrapers has become the latest associate of Locomotion Racing. Their product was used in the engine which helped in setting two new ET records, personal best 1/4 and 1/8 mile performances, the 2008 IHRA Division 2 Stock Championship and a #10 finish in the national points standings

Harland Sharp Rockers
After using Harland Sharp Rockers on my W-2 equipped Challenger bracket car for almost 2 decades, I had to discontinue their use in 1999 because IHRA rules did not allow roller rockers as a legal replacement in the Stock class. In 2007 the rules were changed allowing their use across the board in all classes (Except Pure Stock.). I now look forward to many more years of valve train reliability and efficiency with their products in my 360 Dodge Dart Sport.

Ronnie Robinson
Ronnie Robinson of Green Cove, Springs, FL

has opened a shop devoted to a variety of vehicle services and accessories, from general maintenance and appearance to all-out performance modifications: Street, Truck, RV, Viper, SRT-8, SRT-10, Prowler, Vette, muscle cars, etc. You can even trailer in your vehicle and leave the trailer at the on-site storage facility until your vehicle is ready! As a lifetime automotive/performance enthusiast and many years in the vehicle business, Ronnie will be happy to discuss your needs and options.

Hoosier Race Tires
Hoosier Race Tires are now part of the Locomotion Racing Team along with TTI (Tube Technologies, Inc.), who manufacture quality headers, exhaust systems, tips and more for A, B, C & E Chrysler muscle cars and Neons.
Locomotion's Lakeland Hat Trick
Locomotion Racing's Myron Piatek won three consecutive events at Lakeland Dragway, as part of the six-weekend Southern Stock/Super Stock Association, mounting an impressive points lead, with just two events remaining.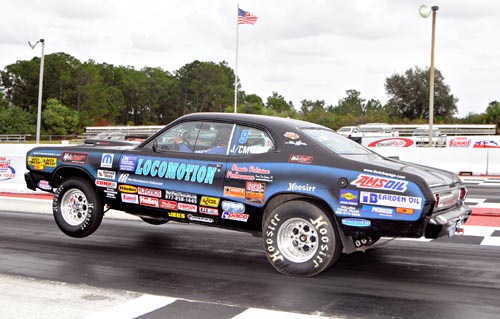 Piatek Wins IHRA Div. 2 Closer
Myron Piatek continued a tradition of strong performances at Darlington Dragway over Labor Day weekend. A convincing Monday victory wrapped up the IHRA Div. 2 schedule of the Summit Pro-Am Tour presented by Amsoil. Piatek finished 2nd in the Div. 2 points chase, earning a coveted qualifying position for the upcoming Summit Tournament of Champions presented by Amsoil.
---
Prestolite Signs with Locomotion
Locomotion Racing is proud to announce its association with the Prestolite Performance Group, featuring their Mr. Gasket, Accel and Mallory brands. Many of these products have already proven their performance benefits and reliability on the car over the years resulting in many event wins, divisional titles and a World Championship in 2006. The 2012 season is off to a good start with a win at the season-opening IHRA/Summit Pro-Am Presented By Amsoil on day 2 of the Immokalee, FL double-header. Being a Summit Tournament of Champions qualifier, also presented by Amsoil, it clinched a spot in the season ending event to be held on October 12-14 at Memphis International Raceway in Tennessee.
---
10th Annual ATC Car Show
The 2012 season started with a car show at the Daytona State College's ATC (Advanced Technology College) Campus in Daytona Beach, FL. The 10th annual show attracted a record amount of cars and spectators and provided the community an opportunity to see the many educational opportunities available there.
---
Piatek named Sportsman of the Year
By IHRA Media / Oct 24, 2011 (Original Story: http://www.ihra.com/News/2011/10/24/1/)
Myron Piatek, of Holly Hill, Fla., was named IHRA's Sportsman of the Year – essentially IHRA's hall of fame award – at the recent IHRA Awards Celebration held at Virginia Motorsports Park following the completion of the IHRA Summit Racing Equipment World Finals presented by RacingJunk.com.
Piatek, a longtime IHRA competitor and former World Champion in Stock, was named Sportsman of the Year for his dedication and contribution to the sport. Away from the track Piatek is considered one of the truly nice guys in the sport of drag racing, always willing to lend a helping hand.
Piatek is also a great driver on the track behind the wheel of his familiar "Locomotion" 1975 Dart. Piatek won the Stock World Championship in 2006 and had another great year this season, finishing ninth in the final Stock rankings.

"It is definitely an honor to receive this award. I have been racing with the IHRA for years and to be recognized after all these years is heartwarming," Piatek said. "I was disappointed at my performance during the weekend, but, needless to say, the unexpected honor made my year."

Awarded since 1998, the Sportsman of the Year is awarded to drivers that show true class away from the track in addition to having success on the track.
"An immeasurable THANK YOU to all of my family, friends and sponsors, including IHRA, Summit and all of the other contingency sponsors, whose individual, assorted and cumulative support has allowed me to pursue my passion and be part of the wonderful IHRA racing community. Win or lose, the people make it a pleasure to be part of it. It's where I've met some of my best friends and nicest people."
---
Robin Hanger's Car Shop Trailer Sales
Robin Hanger's Car Shop Trailer Sales has joined Locomotion Racing as the latest associate sponsor. Located in Holly Hill, FL, they can ship parts and accessories wordwide as well as deliver several brands of trailers from one of several trailer manufacturing facilities across the country. At the same location, The Car Shop Car Care Center is a complete automotive and light duty truck service and repair facility.

---